How to Discuss the Aging Process with Seniors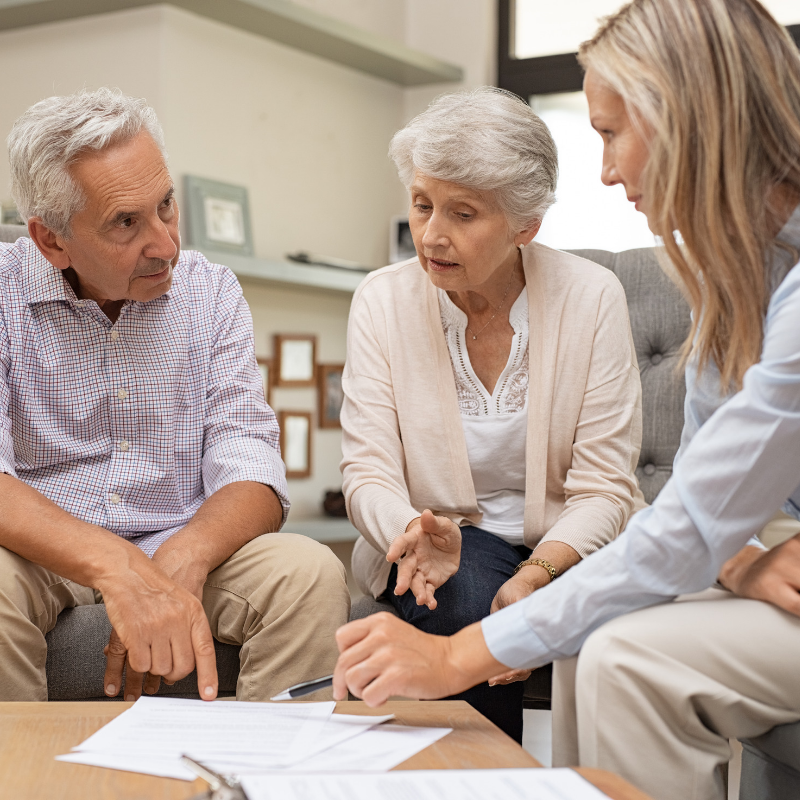 When you start to notice signs of the aging process taking a toll on your senior loved one, such as forgetfulness or slowing down physically, it is time to have the talk with them. Having the talk about how to help your loved one prepare for the aging process, as well as developing a plan together, is very important. Topics of discussion could include how your aging loved one would like to handle situations that involve declining health, accidents, and other lifestyle changes. Starting the conversation may be intimidating, but it will be very beneficial for both you and your loved one moving forward. Continue reading to learn about how to discuss the aging process with seniors.
Preparing for the Talk
The first step in preparing for this talk is to decide what should be discussed and by who. Whoever is elected to have the discussion should make sure to avoid bringing it up during difficult periods in your loved one's life. A few examples of times that this talk should not be held include immediately after the death of another loved one, or after they have been recently diagnosed with an illness.
One of the next steps is to plan for the right time and place. There should be plenty of time allowed for the conversation so your loved one does not feel rushed or overwhelmed. The best place to have the talk should be in a place where your loved one feels relaxed and comfortable. Potential locations could include his or her garden, on his or her daily walk, or after dinner in his or her home.
Have a topic ready to help start the conversation. Potential transitions include a relevant article, community news piece, or relatable story.
Examples of conversation starters:
"I talked to Sarah who used to live down the street the other day. She said her mom is doing great and recently got a caregiver to help her around the house. What do you think about that?"
"I recently read an article about all the new living options as the aging population is increasing. Do you want to hear about some of those options?"
Since this will be the first time you will discuss the aging process with seniors, you should prepare for counter-resistance. If your senior loved one gets defensive, it is important to reassure them of your intentions and explain why you want to have this conversation.
If your loved one seems defensive about the conversation, consider using the following examples:
"I care about you, and I want to make sure you get the care you want and the care you need moving forward. I want to help you."
"I want to make sure you are doing well. Talking about this will give me peace of mind about you."
"I really care about you and I want to understand how you are feeling."
If resistance from your loved one continues, do not push the subject. Plan to revisit the conversation at another time. By bringing up the topic of aging, you have planted the seed for your loved one to give the topic some thought. Time may give your loved one the ability to better prepare for a conversation in the future.
Remember: The goal for the conversation is to understand what your loved one's goals are, as well as their fears for the future as they age.
Having the Talk
When it comes time for the talk, make sure to have written down any other questions or concerns that go along with your family's key concerns.
After breaking the ice with your conversation starter, ask your loved one about their goals for aging. Do not be surprised if your loved one already has a plan in place or in mind. Make sure to listen openly and do not judge your loved one's plans or ideas for the future.
Remember: This talk is to help your loved one's care support team gauge where your loved one is currently at. It is not about pushing you or your family's aging process plans onto your senior loved one.
Examples of how to ask about your loved one's goals and needs without causing offense:
"Are there any areas that are causing you difficulty that I could help you talk through or figure out?"
"What are some of your goals or needs that you picture moving forward? Can I or someone else help in any way to achieve these goals or needs?"
Potential areas to ask about would include home/maintenance and living situations, financial affairs, transportation needs, personal care, health care (including adaptive devices), communications, and socialization.
Key things to remember during your conversation:
Do not be condescending, be conversational.
Take note of what your loved one's goals are for later discussion.
It's a conversation, not a lecture. Ask questions and let them talk more than you. Avoid role reversal. Do not take on the parent role. Make sure the conversation is equal.
Suggest a follow-up conversation. This will give both of you time to think about the conversation and allow you to talk to other family members about it.
Remember to always have a listening ear and to be open to any of the different options or needs that your senior loved one suggests. Today, there are many great options for senior care. There are also many useful senior care resources available. If aging-in-place or in-home care is one of your senior loved one's desired options, if you or your senior loved one is struggling to have the aging process conversation, or if you are interested in specific care resources, At Home Senior Services can help.
Call At Home Senior Services
If you are in the Greater Pittsburgh Area and think your loved one may need home care, At Home Senior Services can help. With our 14 years of experience helping over 1000 families, we can provide your senior loved one with a quality caregiver dedicated to assisting your loved one with activities they may need help with. With our home care services, your loved one can age in place with peace of mind in the comfort of their own home. Call us at 412-604-0410 today for a free consultation, or for assistance to discuss the aging process with seniors. You can also visit our website to find out how we can help you.