How to Prevent Senior Loneliness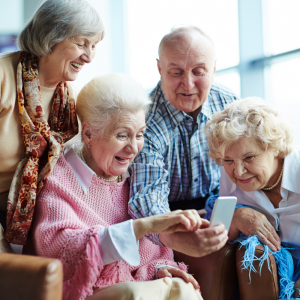 Does your senior loved one struggle with the feeling of loneliness? Many seniors face the struggle with loneliness as they age. Loneliness has been closely connected to seniors having poor health. As seniors continue to age, there are many things that can happen in life to make them feel lonely. However, there are plenty of ways to help seniors feel like they are not alone. Here are some things that can help seniors prevent loneliness as they continue to age.
Try a New Hobby
Having a hobby can benefit a senior's life in many ways, but mostly it can help fight against loneliness. A hobby will help to keep seniors happy and looking forward to doing it every day. In addition, hobbies will help to reduce anxiety, provide more chances for seniors to socialize, and increase physical activity. A sure way to help seniors prevent loneliness is to ensure that the hobby involves a partner or group of people. Some examples of hobbies for seniors are:
Tai Chi
Golf
Gardening
Volunteer
Arts and Crafts
And much more
These hobbies are nice for seniors because they are not too strenuous and can be done in groups. In fact, Tai Chi was actually named the perfect exercise for seniors by The Telegraph. Hobbies are a great way for seniors to be involved in the community and help seniors prevent loneliness.
Incorporate Technology into Their Lives
Technology can help seniors around the house and increase their social interactions as well. The first way technology can help seniors to connect with more people is through social media. These platforms are huge networks of people that seniors can communicate and keep up with, if helped with it . Now, many local libraries have classes available for seniors to help them navigate some social media applications. One example of a social media platform that seniors could use is Facebook. This application is one that seniors can use to keep in touch with family and friends, as well as current events and news.
In addition, technology can help seniors around the house with difficult activities that could impede their social lives. For example, apps such as Uber or Lyft can help seniors with transportation to get out into their community more. These apps are ideal for seniors who are unable to drive so that they can still be able to get out of the house regularly. Technology can be an extremely helpful tool for seniors to prevent loneliness, if they are taught how to use it.
Adopt a Pet for Them
Owning a pet can help a senior feel more social as well. This study shows that when seniors own a pet, they are more likely to be happier than a senior who does not own a pet. It also decreased the seniors' feelings of loneliness and depression. In addition, the researchers of this study believe that owning a pet can improve a senior's overall health. Other benefits of seniors owning a pet include:
Love and affection
More active lifestyle
More chances for social living
Sense of security
Fewer visits to the doctor
When seniors own a pet, researchers found that this gives them a greater sense of purpose in life. The seniors have to be responsible for a living animal and gives them something to do. Owning a pet gives the seniors so many more chances to get out and socialize. A pet provides the senior with a feeling of constant love because the pet is always there, even when people are not. Having a seniors own a pet is one of the best ways to help seniors prevent loneliness.
Have A Support System
Having a support system can be very beneficial for the senior so that they can feel a sense of a tight knit community. Family and friends are two groups who can make a senior feel like they are not alone. Having a support system to be around the senior and do things together will help to fight against loneliness. Just having some family and friends keeping up with the senior, calling or visiting them every now and then is an easy way to prevent the senior from feeling lonely. Some other ways to provide a healthy support system for a senior are:
Inviting your senior out to walk together
Taking a trip to the movies
Inviting them to family outings or dinners
Taking them to the local senior center
These are all fantastic ways that a support system of family and friends can do to prevent loneliness of their senior loves ones. Along with family and friends, taking a senior to counseling, therapy, or support groups can also be very beneficial in preventing loneliness.
Encourage Positive Body Image
One of the things that could be holding a senior back from having more social interactions is their body image. Some seniors are not very comfortable with their body and that prevents them from going out into the community. Giving the senior positive compliments on their body can help boost their self-esteem and help them be more comfortable with going out in public. Plus, discouraging seniors from being negative about their body might help them avoid becoming so self-conscious to the point of avoiding social interactions with people. For example, taking a senior shopping for new clothes or getting their hair done could help them to feel more confident and comfortable with socializing. Also, with a positive body image, seniors will be able to go out more and not feel as lonely. Encouraging a senior to have a positive body image for themselves can help seniors prevent loneliness.
Visit At Home Senior Services
Since loneliness is something that most seniors struggle with, it has become important to monitor and try to avoid as seniors age. There are many different solutions to loneliness for seniors, but home care is an easy solution to this concern. Home care can give the senior in your life the ability to remain independent at home by having the assistance of a compassionate caregiver who can provide companionship. Agencies like At Home Senior Services can help. At Home Senior Services is an in-home care agency dedicated to helping seniors age in place throughout the Greater Pittsburgh Area. Visit www.athomeseniorservices.com or call 412-604-0410 to start the process of connecting with a caregiver.